Electric Clothes Dayer Rack
Regular price
$44.74
$49.22
Unit price
per

---
Share this Product
HOT AIR, COLD DUAL MODE SWITCH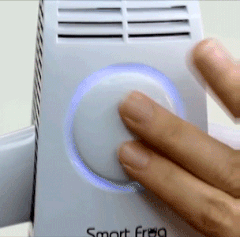 The Portable Clothes Dryer Hanger is super convenient, energy saving, the use of clothes to form hood, so that hot air flow in the clothes inside the collection, circulation, to achieve the purpose of fast drying; products can be dry care, anti-mildew moisture, mite sterilization, eliminate odor.


After the power is turned on, the machine enters the standby state and the blue light flashes; after pressing the start button, the blue light stops blinking and turns to the red light constant state, the machine will work continuously for 3 hours after entering the hot air mode and then will automatically switch to the cold mode Until the user to the next step. 
Main Features -

Space Saving - Mini compact size and detachable, doesn't take much space whatever store in closet or luggage, simple operation and easy to carry.



Quick Drying - Fast dry clothes within 3 hours, work in 150W / 220V / 50Hz. Hot and cold air auto-switch every 3hrs, no shrinkage/heat damage to clothes. It can resolve clothes drying requirements while traveling or in damp weathers.



Care Functions - The clothes dryer has a conventional clothing care functions, such as: moisture, mildew, moth, sterilization, resistance smelling, deodorization, and dry the lightweight clothing right after washing function.



Multipurpose - Suitable for lightweight and small clothes like suits, coats, dresses, jackets, T-shirts, infant wear, underwear but not included silk cotton clothes. They are stretchable and best for drying shoes.

Specifications -


Name: Electric Clothes Hanger
Model: 857105
Power: 150W
Voltage: 220V 50Hz
Size: 42x8x18cm
Cable length: 1.8m
Waterproof level: IPX1
Color: White
Carrying weight: 5-10kg
Power protection: Yes
Bracket material: Plastic
Package includes - 
1 x Electric Clothes Hanger (or with shoe dryers)
---